Little Blue Truck Leads The Way (Hardcover)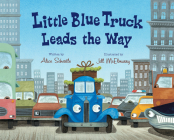 List Price: $18.99
Our Price: $14.24
(Save: $4.75 25%)
Usually Ships in 7-10 Days
Description
---
Zooom! Wooeeee . . . ! "Make Way!" The big city sure is a speedy, noisy place for a country truck like Blue. Everywhere Blue looks, he sees buses, police cars, taxis, vans, a street sweeper, and even the mayor's limousine. With everyone pushing to be first, soon there's a giant traffic jam! But even a wrangle-tangle is no match for Little Blue Truck, who comes to the rescue in true Blue style.
 
Brimming with bright colors, sounds, and city energy, this new adventure makes working together and taking turns more fun than ever.
About the Author
---
Alice Schertle is a poet and author of many well-loved books for children, including the beloved, #1 New York Times best-selling Little Blue Truck series,Very Hairy Bear, Button Up!, and All You Need for a Snowman. She lives in Plainfield, Massachusetts.
Jill McElmurry
was the illustrator of many picture books, including her own 
Mad About Plaid, When Otis Courted Mama
by Kathi Appelt and the best-selling Little Blue Truck series
,
written by Alice Schertle. She happily divided her time between the wide landscape of New Mexico and a green island in Minnesota. Jill passed away in August 2017.
Praise For…
---
". . . big, swooshing street sweeper; the taxi with screeching brakes; the busy police car; the frowning bus. The angry traffic standoffs and the small truck's triumph will be welcome fuel for many preschoolers' imaginative play."--Booklist "It's in the fusion of the old-fashioned with the modern-eclectic--one man in the crowd listens to an iPod--that the book's artistry shines."--Publisher's Weekly